Prose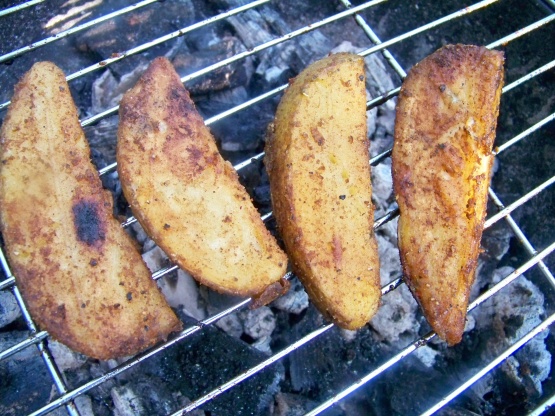 Give your meals a boost with these spicy little gems.

Top Review by Prose
I asked my husband if he liked these potatoes and he said, "They're the best I've ever had." That's quite the compliment from an honest and understated man. I only used 2 potatoes but kept the other measurements the same. I managed to only dirty one dish by draining the potatoes using the lid of the pot, tossing them with the seasonings right in the pot, and then throwing them on the grill outside. The smoky grilled flavor mingled quite nicely with the spices. It was a perfect accompaniment to some grilled tofu.
Par-boil potatoes in boiling water and salt in medium saucepan for 5 minutes. Drain. Return saucepan to still hot burner and shake back and forth to dry potatoes slightly.
Combine garlic salt, pepper, cumin, paprika and cayenne pepper.
Preheat lightly sprayed electric grill to high. Put potatoes into large bowl. Drizzle with olive oil. Toss well to coat evenly. Sprinkle seasoning mixture over potatoes while tossing, until well distributed. Place potatoes on grill. Cook for about 20 minutes, turning frequently, until potatoes are tender and crispy brown. Serves 4.
Company's Coming Grilling.