lazyme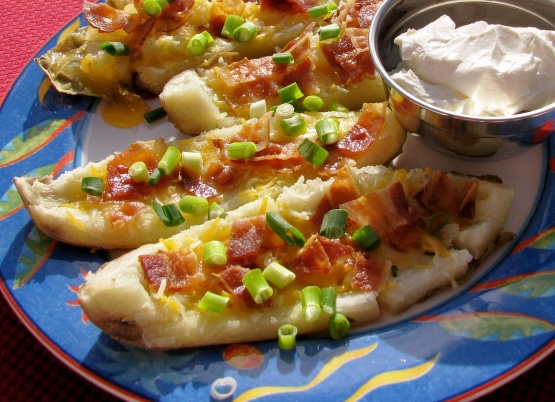 These are excellent potato skins and could go as an appetizer or serve with a meal. The cooking time was right on. Crisp on the outside and nice texture on the inside. We loved the rosemary in this. Altered a little from the original TOH recipe.

Yum! I baked the whole potato in the microwave, then scooped off the potato, mixed soft margarine with dried rosemary, and seasonings. Broiled the skins, till browning, then piled on the cheese and broiled again! The edges were just crispy, the way I like them! Thank you!
Cut each potato lengthwise into four wedges.
Cut away the white portion, leaving 1/4 inches on the potato skins.
Place skins on a microwave-safe plate.
Microwave, uncovered, on high for 8-10 minutes or until tender.
Combine the butter, rosemary, garlic powder, salt and pepper.
Brush over both sides of potato skins.
Grill potatoes, skin side up, uncovered, over direct medium heat for 2-3 minutes or until lightly browned.
Turn potatoes and position over indirect heat.
Grill 2 minutes longer.
Top with cheese.
Cover and grill 2-3 minutes longer or until cheese is melted.
Sprinkle with bacon and onions.
Serve with sour cream.