Grilled Potato and Onion Packets
katia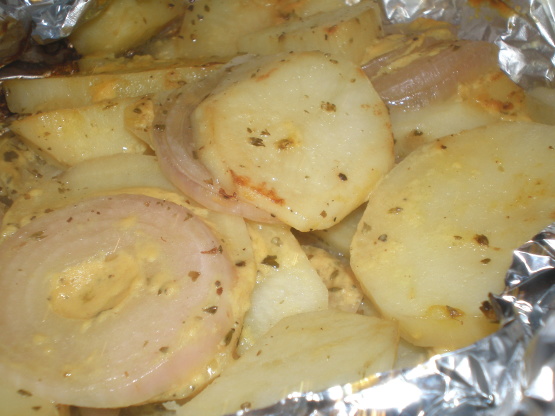 Great side dish for the grill. The mustard taste is very understated. My dh and I don't like mustard, but we love this recipe. In response to Engrossed's review, she is right that you don't need all the oil--I always have oil left in the bowl after I transfer the potato mixture to the foil, and I've just always tossed it.

Very easy and tasty. Went a little light on the oil- just adding enough to coat everything adequately, which ended up being about 1/2 cup. Was a good alternative to the cheesy potatoes that we normally end up cooking as a side dish on the grill.
Whisk together oil, mustard, thyme, salt, and pepper in a large bowl.
Add potatoes and onions to mustard oil. Toss to coat.
Set six 18x9 inch sheets of heavy duty aluminum foil on work surface. Spray foil with nonstick cooking spray. Divide potatoes and onions between the sheets, placing in the center of the left half of each sheet. Fold right half of foil over veggies and fold edges of packages together to seal well.
Grill about 25 minutes over medium high heat.
Open packages very carefully to avoid being burned by the steam.