Grilled Portabella With Thyme & Garlic
ChefLee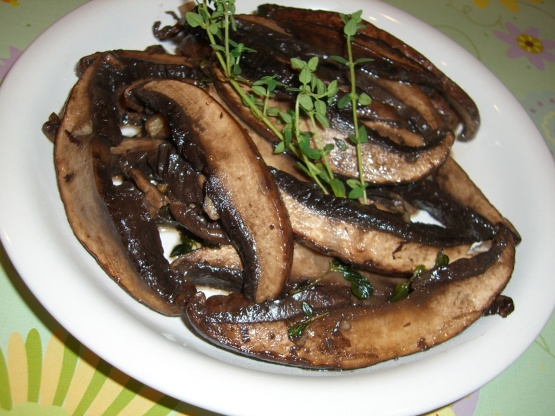 Grilled Portobello with Thyme & Garlic

Mmmmm, so yummy! I made this with just one portobello, and sliced them in the marinade so more would coat it. I was going to put them in a bun but I ended up just eating them as is. Thank you for a lovely dinner. I served with Grilled Peppers and squash. Thanks!
Combine the stock, olive oil, vinegar, garlic, thyme, and salt in a large plastic bag. Arrange the mushroom caps in one layer in the marinade, turning once to coat. Seal the bag, pressing out excess air. Marinate the mushrooms at room temperature, turning occasionally, for about 1 hour.
Prepare broiler or grill. Away from the heat source, lightly coat the grill rack or broiler pan with cooking spray. Position the cooking rack 4 inches (10 cm) from the heat source.
Arrange the mushrooms on the rack or broiler pan and grill or broil, turning often, until tender, about 7 minutes.
Slice thinly and serve warm.