Grilled Pork Cutlets With Maple Chipotle Glaze
teresas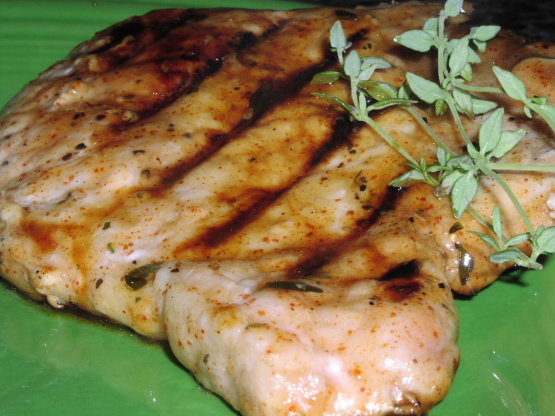 This is a quick and easy glaze with a spicy, smoky flavor that we make often for our pork chops. From the Black Dog Tavern's Summer on the Vineyard recipe book.

Delicious! I cooked them in my cast iron grill pan...worked great...loved the sweet and heat combination...this was really easy to prepare...just keep an eye on your boiling liquid...mine almost boiled over...I'm planning to use the sauce on other meats too! This is a keeper...thanks for posting it! =)
Maple Glaze

1⁄2 cup maple syrup
1⁄2 cup chicken stock
1 1⁄2 teaspoons dried chipotle powder

1

teaspoon fresh thyme, chopped

2

teaspoons cornstarch

1

tablespoon water, cold

Pork Cutlets

1 1⁄2 lbs pork cutlets, cut 3/4 inch thick

1

tablespoon canola oil
Preheat your grill. In a small saucepan, bring the first four glaze ingredients to a boil.
In a small jar, mix together the cornstarch and water. Put the lid on and shake vigorously (it should have the consistency of whole milk).
Pour the cornstarch slurry into the boiling glaze mixture and reduce to a simmer. Cook about 2 minutes until it becomes clear and thickens.
Season the cutlets with salt and pepper and brush with a little oil.
Grill cutlets 3 to 5 minutes per side, brushing glaze on while cooking.