Grilled Pork Chops With Lime, Cilantro & Garlic
Debi9400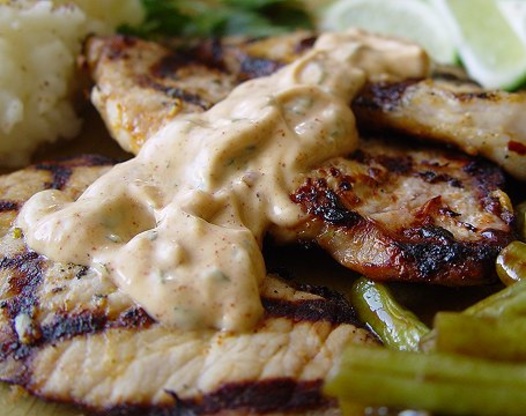 These sound so good I am posting the recipe before trying it. I will add comments after I make them. The Recipe is from American Cooking Club magazineJune/July 05 edition

Fabulous! We had a marvelous dinner. Will definitely be using this recipe again. YUM! -- UPDATE - I made this twice more in the first week and it now has become a standby at my house on summer evenings - used just the mayo part and it was awesome as a spread on burgers and for sandwiches. It works as a dip for veggies too. Absolutely delicious. I usually halve the chipotle because otherwise it's too spicy for the kids. When you make the chops, don't forget to reserve some of it for dipping and for other uses - you won't need it all on the chops and won't want to waste any of it. Better yet, make double sauce and store in the fridge for later.
Blend the first 5 ingredients, cover and place in the fridge for an hour or longer.
Reserve 1/2 cup.
Grill or BBQ brushing the chops with the mayo blend, continue brushing and cooking until the chops are done Turning them halfway through (apprx 15 minutes total).
Serve with the reseved mayo mixture on the side.