Heydarl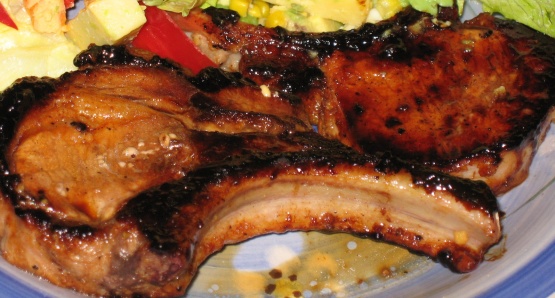 I came across this recipe while looking for interesting grilled recipes. Marinating time is included with prep time (6 hours). Recipe source: local newspaper

WONDERFUL! We aren't big ginger fans so I subbed minced garlic but oh my this will be my go to recipe for grilling pork chops from now on! Great recipe!
Combine marinade ingredients (soy sauce - sesame oil) in a bowl or marinating dish.
Add pork chops turning to coat well. Refrigerate for at least six hours, turning occasionally.
Remove chops from marinade, reserving marinade.
Grill chops over high heat for 8-10 minutes per side (or until done), basting with marinade.
***To Freeze: place chops and marinade in a freezer bag. Seal, label and freeze. To serve: Thaw overnight in the fridge and then grill as directed.***.