Grilled Pork and Poblano Peppers
teresas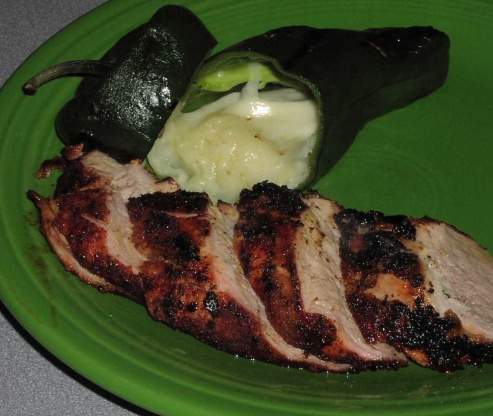 Found this recipe online. Will have to try it soon, it sounds so great!

Wow! This is like trying to rate two different recipes at the same time. 1st the peppers. This was the hardest part of the dish. Trying to figure out how to secure them with toothpicks. (I posted a photo on how I did it). I selected some hot peppers which are unusual for poblanos. (I was lucky) Because we love hot and spicy. I was thinking that I should use pepper jack cheese but am glad I didn't. The 2nd part of the recipe is the spicy pork tenderloin. I enjoyed the taste of the anise seeds. DH loved this until I told him about the anise seeds, after that, that was all he could taste. (must be a guy thing) We gave both parts of this recipe 5 stars!!! Thanks for posting.
Cut the top off each pepper and set tops aside. Remove seeds. Stuff peppers with cheese. Replace tops and secure with toothpicks; set aside.
Combine the seasonings; rub over pork. Grill, covered, over medium-hot heat for 18 minutes or until a meat thermometer reads 160°-170° and juices run clear. Place peppers on sides of grill (not directly over coals); heat for 10 minutes or until browned.