Grilled Pork and Mushroom Skewers
K9 Owned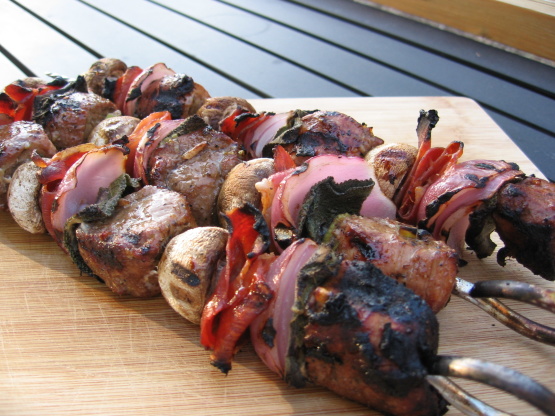 These quick and easy skewers combine tender pieces of pork and vegetables marinated in a balsamic sauce. Posting for ZWT 7. Recipe is from http://www.italianfoodforever.com

What a great kabob recipe! I made it as directed and marinated the pork for about 6 hours. It was easy and so very tasty. Not a smigeon left! I will caution the next person making this to chose smaller more tender sage leaves than I did. The sage in the skewers gave a wonderful taste to the meat but my leaves were mammouth and leathery.
Thanks PapaD - You left a wonderful legacy of great food!
1 3⁄4 lbs pork tenderloin, cut into 1 1/2 inch cubes

1

large garlic clove, minced
salt & pepper

2

tablespoons balsamic vinegar
1⁄4 cup olive oil

1

(8 ounce) package mushrooms, cleaned

2

large red onions, quartered
1⁄4 lb thinly sliced prosciutto, cut into squares
Mix together the garlic, salt, pepper, and vinegar. Marinate the pork cubes in the refrigerator in this mixture for at least 3 hours.
Heat up the grill, and thread on 8 skewers a piece of pork, a few squares of prosciutto, a sage leaf, a few layers of the onion, and a mushroom. Continue in this manner until all the ingredients are used.
Brush the skewers lightly with the oil, season with additional salt and pepper, and grill until the pork is golden brown, about 10 minutes per side.