Grilled Pineapple With Rum Reduction Sauce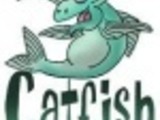 If you like pineapple upside down cake, you will LOVE this grilled pineapple. Basic ingredients compliment each other perfectly. This is really best when served still hot along with vanilla ice cream, with the warm sauce drizzled on both the pineapple and the ice cream. Prep time does not include time for the pineapple to macerate since that is very flexible.
Directions
Cut the pineapple into 8 wedges, remove core and rind with a knife.
Place the wedges into a freezer bag with the brown sugar, seal the bag and massage brown sugar onto the wedges.
Allow the pineapple to macerate in the brown sugar for anywhere from two hours to two days; refrigerate if macerating more than a few hours. The pineapple should release enough juice to dissolve the brown sugar completely.
Heat the grill to medium heat.
Add the vanilla and rum to the bag, seal and shake.
Remove the pineapple from the bag and place it on the grill.
When the pineapple becomes caramel colored on the bottom side, rotate it. Repeat for each of the 3 sides of each wedge, then remove from the grill.
Pour the juice from the bag into a saucepan and reduce over medium heat to a thick syrup (be careful of flare-ups during the first minutes since there will be alcohol from the rum and vanilla extract).
Serve the pineapple alongside a main dish or serve with ice cream and drizzle with the reduction sauce.
Most Helpful
Amazing recipe! Delicious! Be careful not to reduce the sauce too long...it will stick to your teeth! It is wonderful without the sauce anyway!
I've had this recipe in my cookbook forever, finally got around to making it. I was too impatient to wait long for the pineapple, so it only sat in the fridge for a couple of hours. DH apparently used the last of the rum without me knowing, so that didn't go in, I used orange juice instead and tossed a sliced banana in just long enough to heat through before serving over frozen vanilla yogurt. Absolutely delicious, and I can't wait to try it again following the directions! Thanks for posting!
I LOVE this recipe. It's super easy to make, and it's super delicious!