Grilled Pineapple Topped With Ice Cream and Candied Walnuts
Rita1652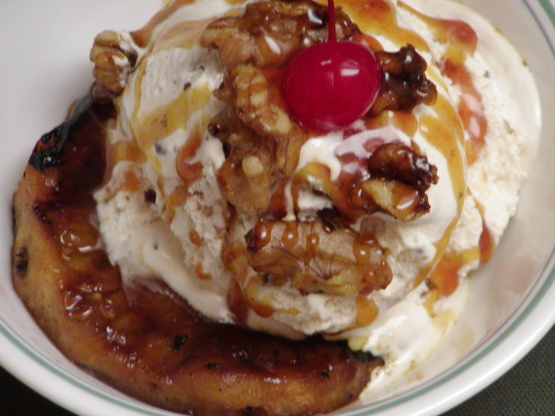 This is put together with a couple of my recipes.The grilled pineapples Tequila Orange Glazed Grilled Pineapple I had left over so I reheated it in a pan on the stove top. This is for 8 serving but go ahead and make it for a crowd. Fattening but YUMMY! This is served on top of a hot slice of pineapple. So it's warm, cold, sweet, crunchy, and creamy good! Or you can chop the grilled pineapple and place it on top.

This dessert is OFF THE HOOK! Everyone enjoyed and raved about it.
Grilled pineapple--.
Mix tequila, marmalade, sugar, butter, vanilla, cinnamon and mint together heat till sugar is dissolved.
Preheat Grill.
Place pineapple on grill.
Baste with tequila mixture while grilling.
Turn occasionally.
Grill about 10 to 15 minutes.
Serve hot with a scoop of your favorite ice cream.
Sundae--.
Starting with the first ingredient place in each bowl follow by each ingredient till you have a beautiful sundae!
Enjoy!