Grilled Pineapple Pork Chops
WiGal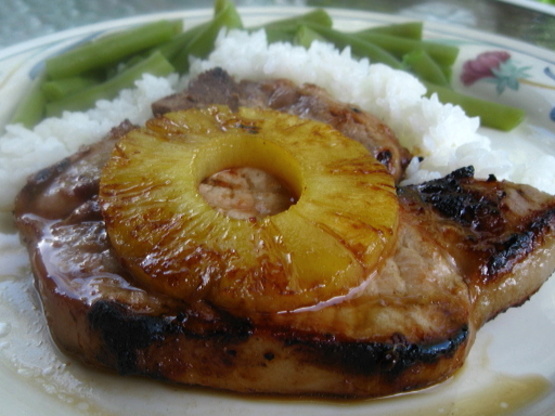 These are easy, sweet and tangy.

Delicious! Made this for hubby and me for Labor Day, along with baked potatoes and sauteed zucchini with cheese. I used boneless pork chops and they turned out very tender. The flavors went wonderfully together. Thanks for the tasty recipe!
Drain pineapple, reserving 1/4 cup of the juice for marinade.
Combine all marinade ingredients; use 2/3 cup to marinate pork, and reserve the rest for basting.
Let meat marinate for at least 3 hours.
Grill pork chops on medium heat for 8 minutes on each side.
Grill pineapple for a total of 5 minutes.
Baste both pork and pineapple with reserved marinade.
Place one or two pineapple slices on each pork chop.