Grilled Philly Cheesesteak Tacos
Cook4_6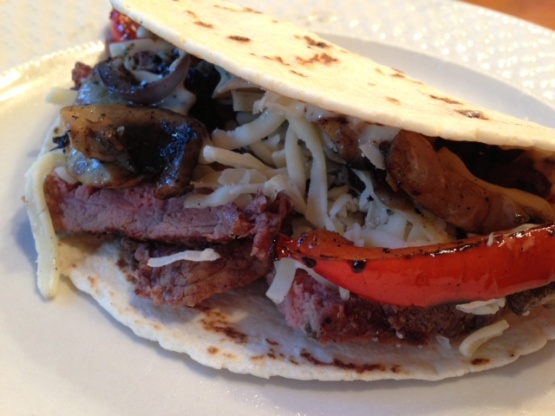 A recipe from Rachael Ray

I made just a couple of quick changes in technique and condiments, and thought this was a fantastic week night meal. I used Certified Angus Beef sirloin steak, and grilled the vegetables in a grilling pan while the steak grilled. To keep it truer to a Philly Cheesesteak in flavor, I served it with garlic mayo instead of the guac and sour cream. This would also be a fantastic way to make fajitas by just switching out the steak seasoning.
Preaheat a grill to medium-high. On a large baking sheet, arrange the steak, mushrooms, bell pepper and onion; brush with the olive oil and season with salt and pepper. Thread the mushrooms onto a skewer.
Grill the steak and vegetables, turning once, utnil the steak is well-crusted and the vegetables are charred and softened, about 12 minutes; transfer to a large plate and let stand until the vegetables are cool enough to handle.
Thinly slice the steak and vegetables separately and transfer the vegetables to a large bowl; season with salt and pepper. Divide the steak among the taco shells, top with the grilled vegetables and sprinkle with the cheese.
You can serve with salsa, guacamole and sour cream.