Grilled Pesto Stuffed Chicken Thighs
IngridH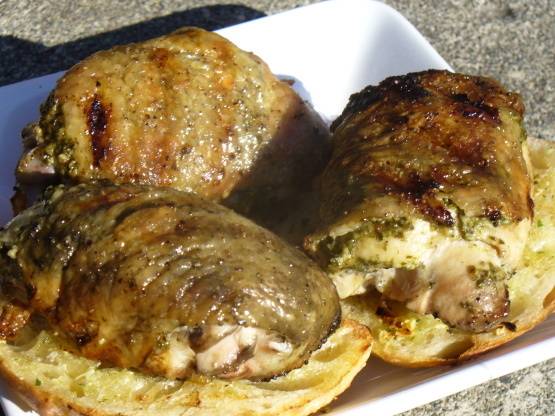 An economical, yet tasty meal. Chicken thighs are flavored with pesto, grilled and then served on Italian bread. For the pesto, I use my favorite, Basil Pesto.

These were really tasty, and easy to prepare. I had a small problem with flame-ups on the grill, but once I moved to indirect heat, the problem went away. The bread was yummy, I loved how it picked up some of the flavor from the chicken juices, as well as the garlicy flavor from the oil. I cut this in half, and found that for my family, I piece of chicken is enough ofr a meal. I think next time I would make this with boneless thighs, but that's just personal preference, not a reflection on the recipe. Thanks for posting such a great summertime recipe!
Preheat the grill.
Loosen skin from thighs to form a pocket; stuff with pesto.
Season chicken with salt and pepper.
Grill the chicken, turning once, until cooked through, about 35 minutes.
Meanwhile, mash garlic with 1/8 teaspoon salt to form a paste; stir in 1 tablespoon olive oil and brush on bread slices.
Toast bread on grill.
Serve chicken on bread, garlic side up.