Grilled Peppercorn-Crusted Roast Beef With Port Wine Sauce
gailanng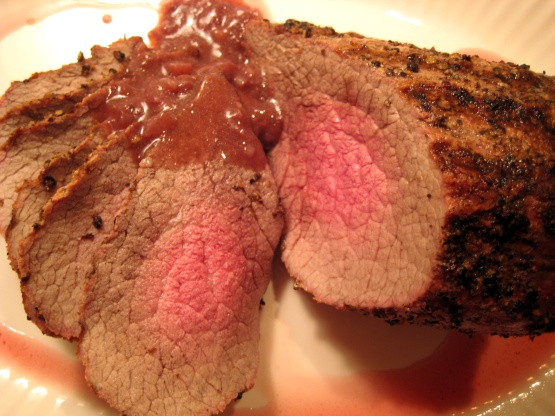 Living in Florida I love to find great recipes that can be grilled outside to keep the house cooler. This is one I found in Cuisine at Home Magazine and I added garlic powder to the seasoning. This isn't your large standard size roast that feeds a group but rather a small 1 or 1 1/4 pound Eye of Round Beef Roast. If it is tricky to find this size, ask the butcher to cut a larger one in half, or buy the larger roast and cut in half and freeze one of the parts for another time. This was served with horseradish mashed potatoes.

Very good choice for a normally tough piece of meat....searing the juices in and then cooking it slowly made it turn out delicious. I couldn't bring myself to strain the shallots out of the sauce, so I kept them in! Delicious. Thanks for posting another great recipe.
For the roast:.
Heat one side of the grill to high; leave the other side unlit.
Season the roast with salt and garlic powder on all sides, then press top and bottom into cracked black pepper.
Grill roast over direct heat for 5 minutes, then turn roast over and grill 5 minutes more. Transfer beef to the unlit side of grill and roast to an internal temperature of 140 degrees, 30-40 more minutes, turning every ten minutes. Remove roast from grill and let it rest 5-10 minutes before slicing.
For the Sauce:.
Saute shallots in 1 teaspoon butter in a saucepan over medium-high heat, until beginning to brown, 1-2 minutes.
Combine 1 tablespoon butter, Dijon and flour in a small bowl; set aside.
Add Port and broth to shallots. Bring to a boil and reduce to 1/2 cup, 10-12 minutes. Strain and discard shallots; return liquid to pan and bring to a simmer over medium heat. Whisk butter-flour mixture into sauce and simmer until thickened, 1 minute. Finish with vinegar, salt and pepper to taste.