Grilled Peanut Butter Chicken
lazyme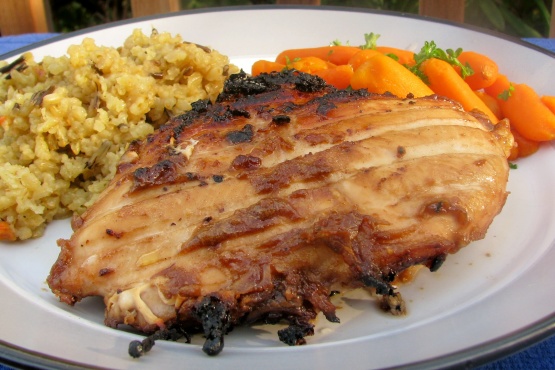 A fun and easy grilled chicken recipe. You could also broil these. Top Review by a_g61
Being short on time i covered in marinade and threw them straight in the oven on "grill" setting. I kept for 35min on 200C without even turning them and i can swear it was the juiciest chicken i had ever make. Am sure marinating it overnight it would be even nicer. PS i substituted the sugar with molasses for a guilt-free experience and it turned out fine.
Place chicken in a plastic Ziplock bag or a glass pan.
In a bowl, whisk together the peanut butter, soy sauce, lemon juice, vinegar, brown sugar, garlic powder, red pepper flakes and ginger. Pour this marinade over chicken.
Chill and allow the chicken to marinate for 6 - 8 hours, or up to 24 hours.
Lightly oil grill.
Grill marinated chicken (discarding marinade) for 6-8 minutes per side or until done.
Serve sprinkled with chopped green onions, if desired.