Grilled Peaches with Raspberries
Derf2440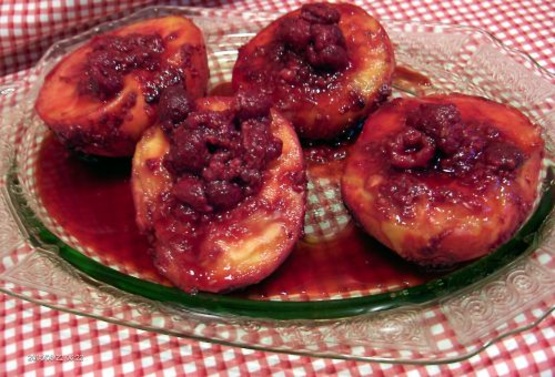 Sooo Good on the BBQ!! from Cooking Light (1994)

This really hit the spot after we were done stuffung our faces with hotter-than-hell spicy BBQ shrimp. I used pears (only because there are no fresh peaches in our stores yet), but you'd better believe I'll be making it again as soon as we can get nice peaches. Fully deserving of every one of the five stars - thanks, Dorothy.
Combine sugar and lime juice in a shallow dish, stir well.
Add 1/2 cup raspberries and mash.
Add peaches, turning to coat.
Marinate at room temperature, cut sides down, 30 minutes to 1 hour.
Remove peaches, reserving marinade.
Coat grill rack with cooking spray, and place on grill over medium low coals.
Place peaches, cut sides down in rack and cook 2 minutes.
Turn peaches over, cook 15 minutes or until tender, basting once with half of reserved marinade.
Remove from grill.
Stir remaining 1/2 cup raspberries into remaining marinade and spoon over peach halves.