Grilled Peaches (Or Pineapple, or Mango)
2Bleu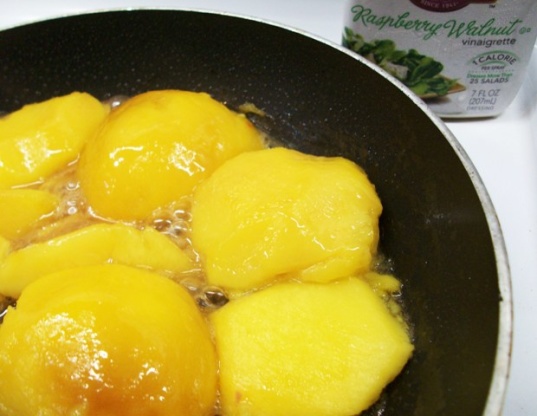 Peach season is here and I made this for dessert tonight. DH and I loved it and I know you will too. The recipe comes from What's Cooking by Kraft so it must be good, right?
Grilling the peaches made them really sweet! I just brushed some of the dressing on the peaches before they went on the grill, not a big fan of raspberry and peaches together. I used lite cool whip and they were a nice summer dessert after our heavy pasta dinner last night. Made for PRMR.
6

peaches, halved (use fresh ripe peaches)
1⁄4 cup raspberry vinaigrette dressing
3⁄4 cup whipped cream
mint leaf (to garnish) (optional)
Preheat grill to medium-high.
Pour Raspberry Vinaigrette Dressing over peach halves in a medium bowl.
Toss to coat.
Remove peaches from dressing and reserve the dressing.
Grill peaches for 6 to 8 minutes until softened, turning occasionally and brushing with reserved dressing.
Top each serving with 1 Tbsp whipped cream and garnish with mint leaf.
*Substitute fresh pineapple rings or mango slices if desired.
*Use 2 skewers to make it easier to turn the peaches on the grill.