Grilled Orange-Ginger Tilapia
Bergy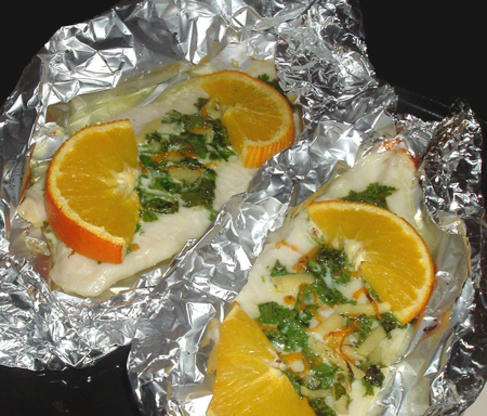 I found this via the net and posted it in request for a tilapia recipe.

This is a great recipe. I generally don't like to eat Tilapia but I will be making this one again. I don't like mayonnaise and was pleased when the bottle I have in the fridge expired in... 2008! So I just added a little more plain yogurt and the whole thing came out great. Very refreshing.
In a small bowl combine 2 tablespoons olive oil, with orange rind, orange juice, ginger root and 1/4 cup coriander. Season with salt and pepper. Spray 4 large pieces of aluminum foil with cooking spray and place on fish in the center of each.
Divide orange mixture in 4ths and spoon into the body of each fish. Add 2 slices of the orange inside the fish. Wrap tightly and place on preheated grill. Grill over medium heat for about 30 minutes or until fish is done. Meanwhile combine yogurt, mayonnaise, lime juice, remaining olive oil and remaining coriander in a bowl.
When fish are done remove from grill and unwrap. Be careful of the hot steam. Place on plate and pour 1/4th of the sauce over each fish.