Fauve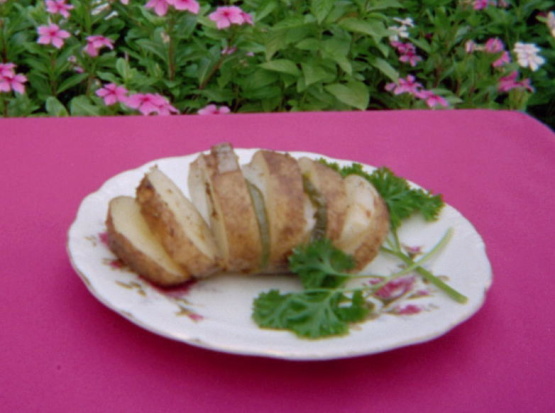 These are great off the grill; so fragrant! Recipe slightly modified from "Quick Cooking" magazine.
I love cooking on the grill but what I like most is recipes where you don't have to stand over the grill while the food is cooking. This recipe fit the bill. It was simple, easy and didn't lack in taste. This will be added to my summer grilling recipes. Next time, I will slice the potatoes into thin slices and soak them in the Italian dressing and add garlic before grilling Thanks for posting.
Cut into each potato, not completely all the way through, so that you can "fan" it out somewhat.
Place each potato onto double layer of heavy-duty foil; then insert small wedges of onion between potato slits.
Pour 2-4 tablespoons of Italian dressing over the potato and onions.
Add salt and pepper to taste.
Wrap foil securely around the potatoes and seal tightly.
Grill, covered, over medium heat for about 50 - 60 minutes, or until potatoes are tender.
NOTE: If you wish, these potatoes may be made in the oven. Follow all steps but eliminate # 6 -- Preheat oven to 375 and bake for 50 to 60 minutes, or until potatoes are tender.