teresas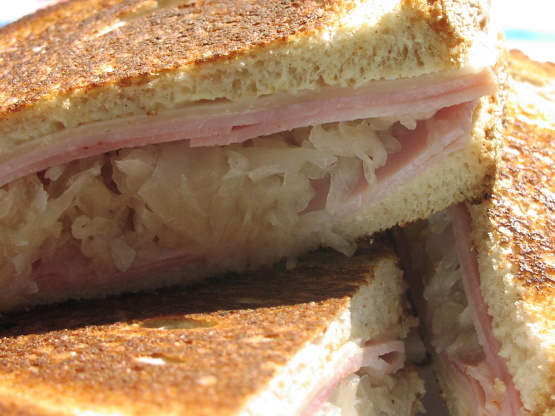 This quick and easy sandwich is adapted from a Cooking Light Recipe from 1993.

Delicious sandwich and one I intend making again for future leisurely weekend brunches. :) Made with slices of crispy, rustic ciabatta and Recipe #218814. I didn't weigh the amounts, just crammed in what I could, and buttered each side of the bread rather than using cooking spray. Naughtier in terms of calories and fat content, but oh so much yummier! Thank you for sharing this recipe, Cooks4_6. Great idea to add cabbage to this sandwich, something I wouldn't have thought to do. We just loved the blend of flavours and the Swiss cheese was a fabulous cheese choice. Made for Zaar Stars Tag.
Combine mayo and mustard in bowl, stir well.
Spread on 2 slices of bread.
Top with 1 slice cheese, 1 ounce ham, 1/2 cup cabbage, 1 ounce ham.
Top with remaining bread slices.
Coat a nonstick skillet with cooking spray, and place over medium heat until hot.
Add sandwiches; cook 3 minutes on each side until golden brown.
*You can use leftover coleslaw instead of the plain cabbage and it is fabulous.