Grilled Mustard-Glazed Pork
TnuSami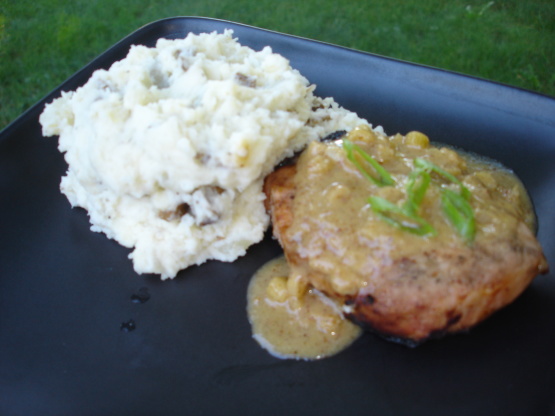 Yum! I made this with boneless pork chops instead of tenderloin, and so slightly adjusted the cook times, but otherwise followed the recipe and it was good! The sauce has a sweet, tangy flavor from the vinegar, and we really enjoyed it. The meat without the sauce has a mild, pleasant taste, too. Thanks!!
Trim fat from meat and place in a plastic bag in a shallow dish. For marinade, combine the apple juice, shallots, vinegar, mustard, oil, brown sugar, soy sauce, and pepper. Pour over meat; close bag. Marinate in refrigerator for 30 minutes, turning bag occasionally. Drain meat, reserving marinade.
In a charcoal grill with a cover, arrange medium-hot coals around a drip pan. Place meat on grill rack directly over coals. Grill, uncovered, for 8 minutes, turning once to brown both sides. Position meat over drip pan. Cover and grill for 15 to 20 minutes more or until meat is slightly pink in center and juices run clear.
Meanwhile, for sauce, pour reserved marinade into a medium saucepan. Bring to boiling; reduce heat. Simmer, uncovered, about 8 minutes or until reduced to 2.3 cup. Slice the meat across the grain. Serve with sauce. If desired, sprinkle with chives.