Grilled Mussels With Red Wine and Chorizo
momaphet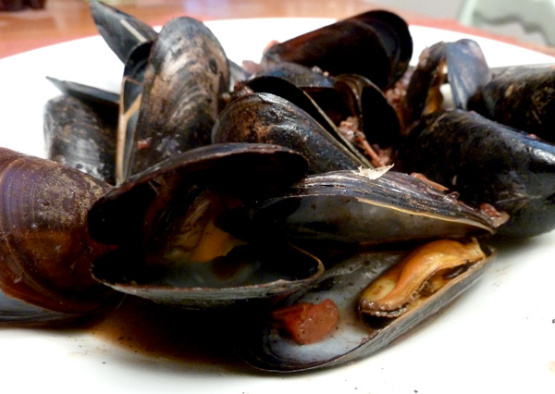 Quick and easy dinner for two! Adapted from Hurley's Restaurant & Bar in Yountville, Calif. Serve with fresh, thick grilled bread to mop up the broth.
These were fabulous, we loved the sausage and tomato in the broth with mussels, my DH scrapped up every last bit. Super easy, I skipped the grilling and just steamed the mussels in the pan. We'll be making this again, thanks for sharing! Made for ZWT 8 by one of The Wild Bunch
Heat grill over medium high heat.
Meanwhile, heat a large saute pan over medium heat; add olive oil, shallots, garlic, and chorizo and cook, stirring frequently, until shallots are softened, about 4 minutes.
Stir in the red wine and cook until it reduces by about half, 3to 5 minutes; remove from heat.
Using a wire basket, place mussles on the grill until they just begin to open, then transfer to the saute pan.
Heat the pan over high heat until the liquid boils; stir in the tomatoes, parsley, and butter.
Season with a pinch of salt and pepper.
Serve immediately.