Pam-I-Am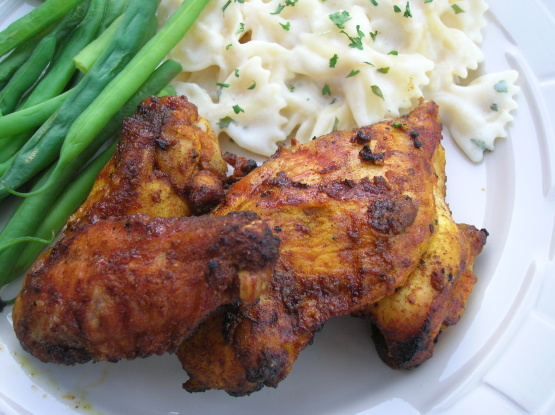 My 9 year old daughter requests Moroccan Chicken whenever I mention 'chicken' is for dinner. This recipe came from a Rotisserie Cookbook I have. The marinade/paste for the chicken can be put on as early as that morning, or as late as an hour before grilling and it will still have a wonderful flavor. You can also leave the chicken whole and put it on a rotisserie if you have one. Enjoy!

We enjoyed this. My only change was to put it all in the freezer for oamc cooking. Thawed & grilled. Very nice. I thought it was just a tad salty, but I liked everything else. Thank you very much!
Prepare the chicken by washing it and patting it dry (whole or cut up).
Mix spice paste ingredients together in a small glass bowl.
For a whole chicken, rub the paste on the outside and inside and chill in the fridge for a minimum of one hour. For pieces, place them in a large bowl and pour paste over them, mixing until all pieces are coated. Chill for one hour.
Grill until done. For whole chicken, until the thermometer registers 175°F in the thickest part of the thigh.