Grilled Monte Cristo Sandwich
seesko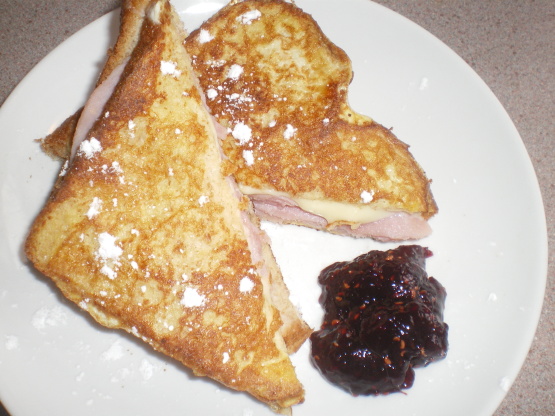 From Pillsbury Quick Cooking, this sandwich goes together quickly.

Top Review by seesko
This is a very yummy sandwich that has the general taste of a monte cristo with a fraction of the fat and calories. However, not frying the sandwich makes it considerably different than a monte cristo. Having that said, you should still try this delilsh sandwich. Yummy! Next time we are having them for breakfast with syrup ontop instead of jelly. That is what my son did today and I gotta tell ya, there was not a drop left. Thanks Lazy. Made for photo tag.
To assemble sandwich, top 1 slice of bread with turkey, cheese and ham.
Cover with remaining slice of bread.
Melt butter in small skillet over medium heat.
Dip sandwich in beaten egg, turning to coat both sides.
Cook sandwich 3 to 4 minutes on each side until golden brown.
Top sandwich with strawberry jam.
Sprinkle with powdered sugar, if desired.