3 Reviews
YUMMY! I made this last night for ZWT2. I baked mine because I don't have a grill and that took 30 or 40 minutes. Fabulous easy recipe. The rub tastes almost like an Indian curry, but sweeter. Very nice blend with the greasy (in a good way) game meat. Thanks for sharing!

This was very tasty. I cut the hens in half - but did not know how to get the backbones out. Ours did not cook in the time specified - they took over twice as long. I wonder if your recipe was suppose to say to grill 17-20 min. per side.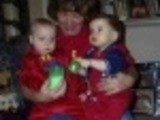 I doubled the recipe and used turbinado sugar. Instead of cooking it on the barbecue grill, I got out the charcoal smoker and mesquite wood chips. Smoked the hens about 4 to 5 hours. They were a beautiful golden brown, moist and delicious. My guests said thank you!
Grilled Mediterranean Cornish Game Hens