Grilled Mediterranean Cornish Game Hens

Wow, these look fantastic and taste as good as they look! Serve with Grilled Pita Salad for a great meal straight from the barbeque! From Woman's Day magazine,1999.
Directions
Mix spices in a small bowl.
Rub all over hens and grill immediately, or cover airtight and refrigerate up to 24 hours.
Heat barbecue grill.
Place hens, skin side down, 4 to 6 inches above heat source.
Grill 20 to 30 minutes, turning once, until meat is opaque near the bone and juices run clear when thigh is pierced.
Serve with lemon wedges.
Enjoy!
Most Helpful
YUMMY! I made this last night for ZWT2. I baked mine because I don't have a grill and that took 30 or 40 minutes. Fabulous easy recipe. The rub tastes almost like an Indian curry, but sweeter. Very nice blend with the greasy (in a good way) game meat. Thanks for sharing!

This was very tasty. I cut the hens in half - but did not know how to get the backbones out. Ours did not cook in the time specified - they took over twice as long. I wonder if your recipe was suppose to say to grill 17-20 min. per side.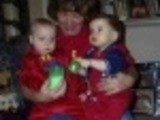 I doubled the recipe and used turbinado sugar. Instead of cooking it on the barbecue grill, I got out the charcoal smoker and mesquite wood chips. Smoked the hens about 4 to 5 hours. They were a beautiful golden brown, moist and delicious. My guests said thank you!