momaphet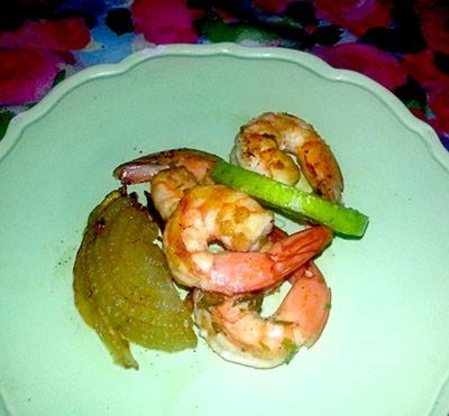 Whenever summertime comes around, I look forward to making this shrimp recipe on our outdoor grill. I've served this to guests, alongside a nice green salad and a pitcher of margaritas. Simple and delicious. Note: You can try broiling the shrimp in your oven for about 8 minutes instead of grilling but I have never personally tried them that way. Prep time includes marinating in the refrigerator.
Very tasty, this recipe has great flavors and clear directions! I reduced the servings, and marinated for less time because my shrimp were shell off tail on and the lime juice would have cooked them in the written time. I pan grilled as we are out of gas for the BBQ. I said YES to have an onion with it, and served it with a slice of grilled onion for the Southern US Onion Challenge for Culinary Quest 2014 for team Cruisin' Culinary Queens.
Mix together the olive oil, fresh lime juice and seasonings in a bowl.
Split the shrimp up the back with a sharp knife to allow the marinade to penetrate. Leave the shell on, but try to remove the vein.
Add the raw shrimp to the marinade and refrigerate, covered, for about two to three hours.
Remove from the marinade and grill the shrimp for about 4-5 minutes, until done. Make sure not to overcook your shrimp or they will be rubbery.
*You can also broil the shrimp indoors. It would take about 8 minutes*.
Serve on a big platter with lime wedges.
Peel and eat!