Grilled Margarita Chicken Bites With Salsa-Sour Cream Dip
MeliBug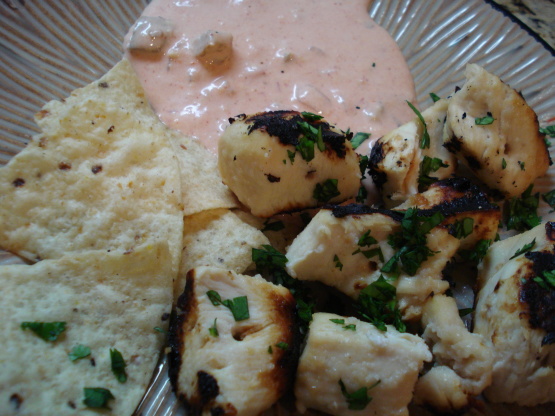 From the Margarita Cookbook...considerably greater than the sum of it's parts. Try the dip on the chicken, the the chips in the dip. Top a chip with chicken then add the dip, etc.

oh wow!!!! i can't see this recipe getting anything lower than a 5 star rating! the flavors were SO good in the chicken! i loved the final result with cilantro sprinkled over it and dipped in that sauce... mmm im getting hungry all over again just thinking about it! this was a big hit with every member in my family! thanks for an amazing recipe!!!
Combine lime juice, tequila, Triple Sec, olive oil, and garlic in glass bowl. Set aside small amount for basting.
Add chicken and toss to coat.
Marinate for 20 minutes.
Meanwhile, stir together cheese, sour cream, salsa, chili powder and salt. Let stand at room temperature.
Heat grill to medium hot.
Spear chicken pieces onto skewers.
Lay skewers on grill and cover.
Grill for 4 minutes, then baste with marinade, turn, cover and grill for 2 minutes.
Baste again and finish cooking, about 2-3 more minutes.
Remove chicken from skewers and sprinkle with cilantro.
Serve with dip and chips.