Grilled Low Carb Chicken Satay
Rita1652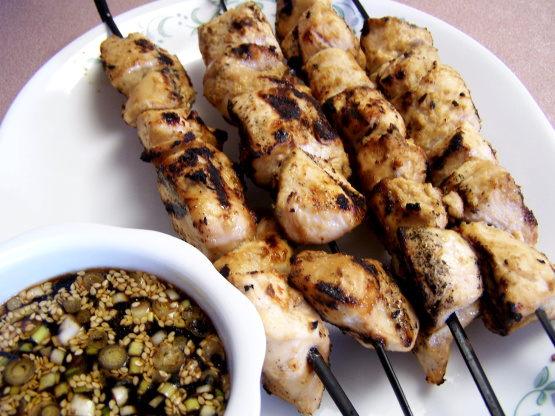 This is a delicious chicken recipe that pleases my whole family. At 1.5 grams carb per serving it goes well with a carb controlled diet, but those not on carb control love it too. I serve this with a crisp salad and white wine. Hope you enjoy this as much as we do! Adapted from quick and easy Low Carb by Amanda Cross. Prep time does not include marinating overnight. Added June 22 05: Please be sure to use a low sodium soy sauce to avoid saltiness.

My family loved this! I think I might divide the sauce and use half to marinade chicken and the other half to pour over as a stir fry! Very good sauce and versatile!
In a large mixing bowl combine peanut butter, soy sauce, lime juice, curry powder, garlic and hot pepper sauce.
Place the chicken in the marinade and leave to marinate for about 12 hours, or overnight in the fridge.
When ready to cook, preheat broiler or grill to high.
Put the chicken on skewers and cook for 5 minutes on each side, or until cooked through.
Serve immediately.
Can be served as a meal or an appetizer for a larger group.