Grilled London Broil With Caramelized Onions
Rita1652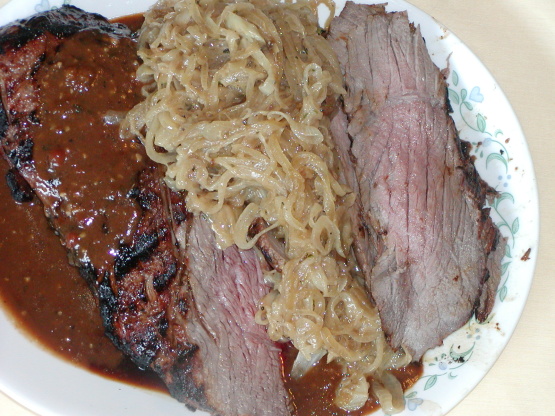 I marinated the London Broil over night. Served with my Caramelized onions Caramelized Onions but feel free to make your own or serve without. This tough piece of meat is very tender cooked and sliced this way. This is not to be overcooked. Hope you have good will power because this you will want to keep on eating.

Rita, putting this marinade together was like making a secret potion, very exciting and I wondered how it would taste. Let me tell you it was the most outstanding marinade I have ever tasted, my family will back me up on that. Thanks for posting, I have enjoyed many of your recipes!
Mix all marinade ingredients together and place in a gallon size zip lock.
Score meat on both sides then place into bag with marinade.
Refrigerate overnight.
Remove meat from marinade and bring marinade to a boil and simmer till meat is cooked.
Grill meat on high heat for 3-5 minutes on each side turning only once.
Meat registers 120-125 degrees F.
Let sit 10 minutes before cutting very thin slices on the bias.
Serve with caramelized onions and sauce.