bvdgt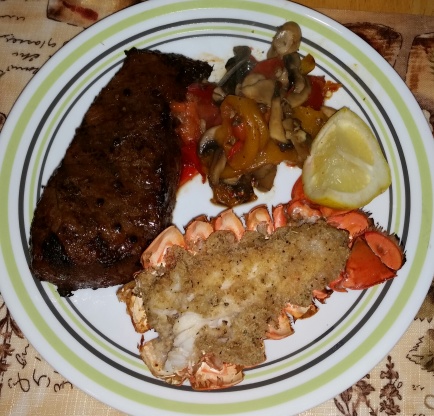 When our sons were quite young, occasionally, after we put them to bed, my husband and I would have a special late night candlelight dinner. Instead of paying for a babysitter, we would fix something really special and just dine in. It was always more fun then going out;>) This was one of our favorites.

My wife wasn't keen on the idea of fixing homemade lobster tails because we had never done it. When we followed this recipe minus the dry breadcrumbs, we thought it was the best lobster tail we had ever had. The recipe was easy to make. We did do one additional thing that the recipe didn't call for; we put the melted butter and minced garlic in the bottom of the shell before we put the meat back into the shell. By doing this, it cooked over the garlic and butter the entire time it was on the grill. We cooked it on a gas grill and it came out awesome. You don't need hickory chips for this to be flavorful. My wife liked this recipe also because the meat came straight out of the shell when it was time to eat. She doesn't like fighting the meat out of the shell. Outstanding recipe and highly recommended!
Holding each lobster tail shell side down, cut away the ribbed membrane as close to the shell as possible with kitchen shears.
Remove lobster meat in one piece from each shell, rinse and pat dry.
Sprinkle each with lemon juice and set aside.
In a small saucepan, melt butter with the minced garlic over low heat.
Remove from heat.
In a plastic ziplock bag, combine bread crumbs, herbs, garlic powder, cayenne and Parmesan cheese.
Roll the lobster meat in the garlic butter and shake them in the plastic bag with the bread crumb mixture to coat.
Return the lobster meat to their shells.
Grill the lobster tails, shell sides down, on a rack 4-6 inches over glowing coals with some hickory chips added, turning from side to side but not turning over, for 10 minutes.
Cover and grill another 5 to 10 minutes until they are just cooked through.