Grilled Limoncello Salmon Steaks
Derf2440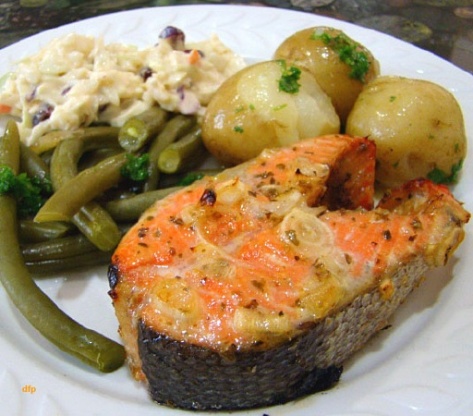 An unusual marinade for salmon steaks. Allow 3-6 hours for the steaks to marinate.
Rinse and pat dry the salmon steaks.
In a bowl large enough to contain the fish, whisk together olive oil, lemon, onion, liqueur, oregano and salt and freshly ground pepper.
Turn the salmon steaks in the marinade, to coat both sides, and leave to marinate, in the refrigerator, for 3-6 hours.
Remove the steaks from the marinade and cook on the bbq or grill for 10-12 minutes, turning once, until the fish is firm to the touch.
Careful not to overcook.
Serve immediately with a tossed green salad and oven-roasted cauliflower.