Grilled Lemon Chicken Wrap With Chilli Mayonnaise
Redsie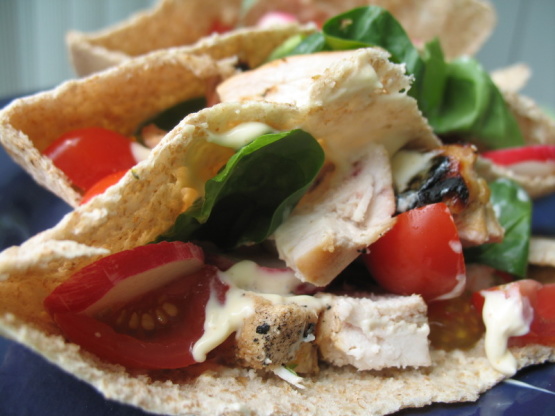 This makes a lovely light lunch, but if you wish you may serve the chicken by itself as starters with chilli Mayo as a dip on the side. Cooking time indicated includes marinating time.

It has been demanded that I bring this wrap to all future gatherings! LOL I made the chicken the night before and wrapped them up in sun dried basil or jalapeno tortilla's with the dressing and romaine lettuce. They stored well overnight and were great cold the next day. Super simple make ahead potluck lunch that will definitely be made again!!
You will need flat metal skewers, or if using wooden skewers then soak them in water for atleast 20 minutes to stop them from burning.
Cut each breast lengthwise into 3 strips.
Combine garlic, cinnamon, allspice, pepper, oil, lemon juice and yoghurt in a bowl.
Add in the chicken strips and toss to coat evenly.
Cover and refrigerate for 30 minutes (you may marinate the chicken for upto 3 hours in advance).
Pre-heat indoor grill to medium-hot, or for outdoor grills, medium-hot coals.
Thread 2-3 chicken strips onto each skewer.
Grill turning every 2 minutes and basting with any remaining marinade until cooked through, for about 10 minutes.
Warm the breads through for about 30 seconds on each side.
To make the chilli mayonnaise, whisk chilli, coirander and lime juice into mayonnaise.
Split open and separate each warmed pita into 2 halves.
Slide the chicken pieces on each pita halves and top with lettuce, tomatoes and radishes and spoon over the chilli mayo.
Add salt and pepper, roll up and serve hot.