Grilled Lamb Burgers W/ Marinated Red Onions, Dill & Sliced
PanNan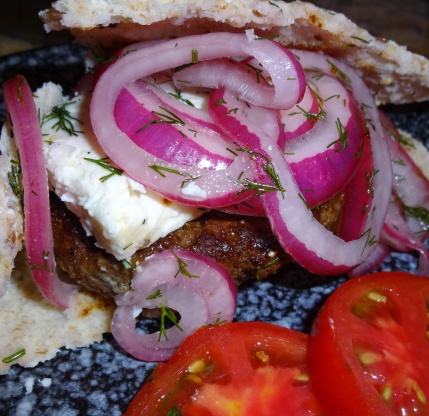 DH and I made these tasty lamb burgers from the Grilling 2010 magazine a couple of nights ago. The recipe is credited to Tony Rosenfeld of "Big Guy Cooking." I really liked these burgers. DH liked them, but likes my Moroccan Lamb Burgers (also posted) better. The fresh dill in my garden wasn't looking so hot, so I subbed 1 Tb dried dill. This worked, but I'm sure the fresh would be even better. I would definitely make these again. Prep time includes 15 mins marinating time.

Top Review by PanNan
I LOVED these burgers. I've never made a lamb burger before so I wasn't sure what to expect. What a pleasant surprise. I couldn't believe how tasty they were. The feta and onions were delicious on their own, but together with the burger they were fabulous. Made for ZWT 9 team Mike and the Appliance Killers.
Prepare a medium charcoal or gas grill fire. Clean and oil the grill grates. Gently mix the lamb with the paprika, oregano, garlic, and 1 tsp salt. Shape it into four 1/2 inch thick patties.
On a large plate, lay out the slices of feta and sprinkle with the olive oil and 1 Tb of the dill.
In a small bowl, toss the onion with the vinegar, sugar, 1/2 tsp salt, and the remaining 1 Tb dill, and let sit at room temperature for 10 to 15 minutes.
Grill the burgers on one side until they have good grill marks, about 5 minutes. Flip and cook the other side until it has good grill marks, too, and the burgers are just light pink inside (make a nick with a paring knife), about 5 minutes for medium doneness.
Serve the burgers in the warmed pita with the feta, tomato, cucumber, and a heaping 1 tsp of pickled onions.