Grilled Jamaican Jerked Drumsticks
Linky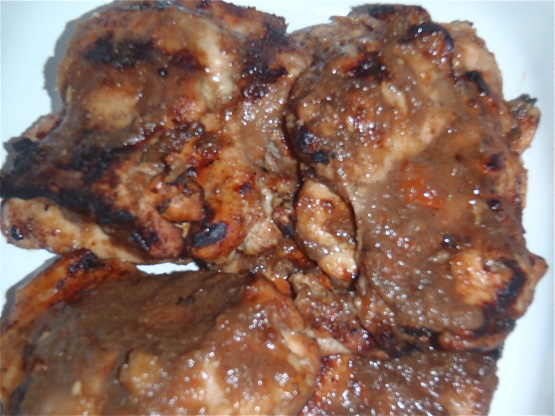 from an All You magazine. Will used chicken thighs but are going to try it with just chicken breasts next time. Really quite good marinade

We loved this "jerked" chicken recipe. I thought it would be "hot" in terms of spice, but it wasn't -- just wonderfully flavorful. I marinated these drumsticks for 24 hours as the recipe indicated and DH brushed them throughout the grilling process. The end result was a moist and succulent chicken. Will definitely make this recipe again. Made for Spring PAC, April, 2013.
Process onions, jalapeno, garlic, ginger, salt, pepper, sugar and allspice in a food processor until smooth. Whisk juice, vinegar and soy sauce in a large measuring cup. Add juice mixture to food processor while motor is running; blend.
Place chicken in 2 large ziplock bags. Divide juerk mixture between bags and tightly seal. Turn several times to coat drumsticks. Place in refrigerator and allow to marinate for at least 30 minutes or up to 24 hours.
Preheat grill to medium. Remove chicken and pat dry. Pour marinade into small pan and bring to a boil, reduce heat to low and simmer for 2 minutes.
Grill chicken turning and brushing often with jerk mixture until done.