Grilled Jalapeno Buffalo Burgers
Bergy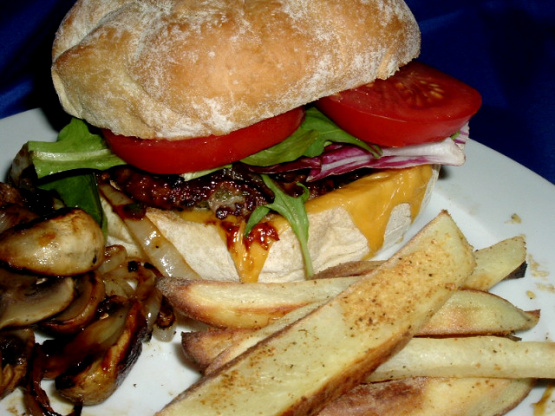 Buffalo is a great and healthy alternative to beef.

Top Review by Bergy
Wonderful power packed burger. I am lucky that both Beeffalo & Buffalo are raised in this area and we can buy it fresh in one of our butcher shops. I apologize for taking some liberties with your recipe - I have a favorite Chili sauce that I used instead of making your sauce (sounds great too) and I added onion, mushrooms, cheese, lettuce & tomatoes as condiments. Thanks for a true Saturday Night Live Burger
Mix meat, onion, peppers, and garlic together. Mix well. Shape into preferred sized patties.
Brush the grill with vegetable oil. Next, place the patties onto the grill. Make sure they are place approximately 4 inches from medium heated coals.
Turn them only once--about 4 - 6 minutes for a medium doneness. **NOTE: You can also broil these as well.Placing the patties about 3 inches from the heat source. Turning only once.**.
Serve with the hot chile sauce.
HOT CHILE SAUCE Boil the water, adding the chilis. Boil for 5 minutes and drain.
Remove the stems and remove from heat. Cool.
Add this to a blender and add the following: vinegar, mustard, and garlic. Blend until the chiles are finely chopped. On low speed, gradually add the oil. Blend until smooth and creamy.