Grilled Italian Sausage Panini
GaylaJ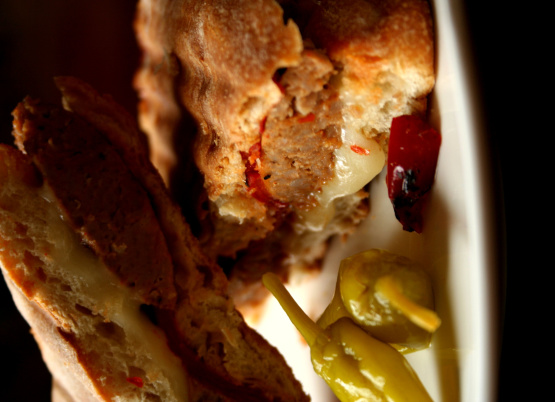 This is a variation of Mysterygirl's panini recipe (Panini Sandwiches) that I came up with when I had a craving for Italian sausage. I must say that it turned out really great, but try it for yourself! Amounts are for one sandwich - just multiply as necessary.
1

hot Italian sausage or 1 sweet Italian sausage, uncooked

1

ciabatta bun, split

2 -3

slices provolone cheese (depending on size of slices)
roasted red pepper, to taste (or other toppings)
Put sausage in small pot and cover with water.
Bring to boil over high heat.
Once water boils, prick the sausage with a fork several times so that the grease comes out as it cooks.
Boil sausage for 5 minutes, or until it looks at least halfway cooked.
Remove sausage from water, and either rinse it under warm water (there might be some scum on it), or wipe it with a clean paper towel.
Preheat George Foreman grill.
Slice sausage in half, lengthwise.
Place sausage cut-side down on hot grill, and cook until done (about 5 minutes or so).
Place cheese in bun, then add sausage, and top with roasted red peppers and/or your own favourite additions such as hot banana peppers, marinara sauce, olives, tomatoes, fresh basil, etc, etc.
Close sandwich and grill in George Foreman until the bread is golden and crispy.
Cut sandwich in half and enjoy!