Grilled Italian Lemon Chicken
Cook4_6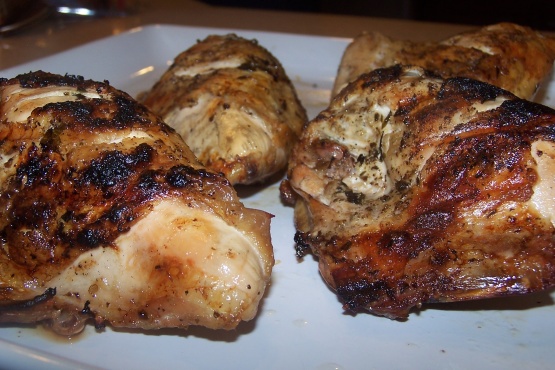 Light summer fare. especially good when the oregano is abundant in your garden. From the Amalfi region of Italy.

this was just wonderful. My two year old daughter gobbled it up too. thank you for sharing!
Combine first 6 ingredients and whisk well to make marinade.
Combine last 4 ingredients and whisk to make chicken seasoning.
Prepare grill for direct/indirect grilling.
Season chicken on both sides.
Sear chicken over direct heat, then cook indirect to approx 145°F internal temp (slightly underdone).
Remove chicken from heat and cool until cool enough to handle.
Cut chicken into large bite size chunks (i.e. a breast will usually make 3 or 4 chunks, a thigh makes 2, etc.).
Place pieces cut side down in baking dish.Use a dish of such dimensions as to keep the pieces standing up against each other.
Pour marinade evenly over chicken and let marinade 30 minute.
Meanwhile, preheat oven (or gas grill) to 375°F, then bake 40 minutes.
Serve on a platter and spoon half of juices/marinade over the top.
Remaining juices may be served on the side in ramekins, or bowl to be passed.
Note: You may substitute Caventer's Greek seasoning for the last 4 ingredients. We do.