Grilled Herbed Shrimp on Mixed Greens
Hey Jude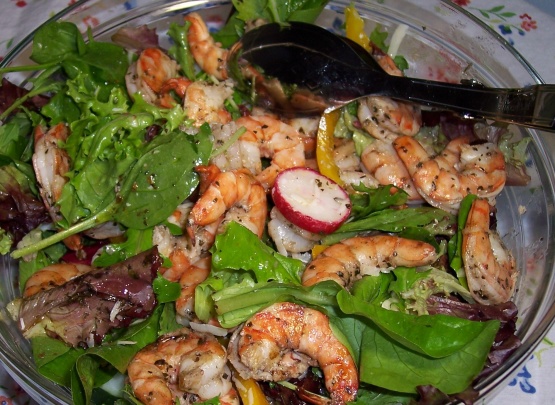 This is a great after-work meal in the summer time, when it's too hot to cook indoors, though the shrimp can be cooked in your oven's broiler as well. This is pretty versatile....you can alter the salad ingredients according to your taste. I've adapted this from a Pillsbury recipe.

My first time grilling shrimp for a salad and we loved it! We usually grill chicken for salads but shrimp is much faster and SO delicious. The marinade gives the shrimp a great flavor (I used balsamic). I will be making this often in the summer. Thanks Hey Jude, for posting.
Roxygirl
Heat your grill.
In a medium bowl, combine all marinade/dressing ingredients; blend well with a whisk.
Reserve half of the marinade to use as dressing; add shrimp to remaining marinade and toss to coat; let stand at room temperature for 10 minutes to marinate.
Remove shrimp from marinade; reserve marinade; thread shrimp onto four 12-inch metal skewers and place on grill; cook 6-8 minutes or until shrimp turn pink, turning and brushing once with marinade.
In a large bowl, combine salad greens, bell pepper, cucumber, radishes, cheese and reserved dressing; toss gently.
Divide salad onto individual serving plates and top with shrimp.