Grilled Herb Polenta With Asparagus, Tomatoes and Parmesan
PaulaG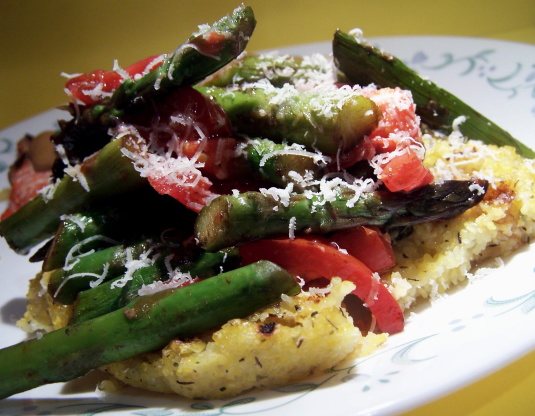 Tired of your potatoes and pasta try Polenta is a type of meal ground from sweetcorn, cornmeal or maize.

Wrote review Sunday, November 12, 2006, which was the following Thank You for sharing this wonderful delicious and beautiful dish Served with GaylaJ Pan-Seared Tilapia With Chile Lime Butter Pan-Seared Tilapia With Chile Lime Butter Made a tasty combo and pretty on the plate. Forgot the star rating, thought I did it guess not, but this is a 5 and better.
Bring 2 of the cups of water to the boil and slowly add the polenta and herbs , whisking all the time. This ensures the polenta won't form lumps.
Reduce the heat to a simmer, stirring frequently with a wooden spoon.
When the polenta becomes too thick, add the remaining water a little at a time.
Line a tray with cling film and spread the polenta about 1 inch thick using the back of a spoon. Cool overnight. Once cooled, cut into shapes brush with oil and season with salt and pepper and grill on hot grill.
Heat the balsamic vinegar, garlic and sugar in a saucepan. Once the sugar has dissolved, add the asparagus and cook for 3 minute.
To serve: arrange the polenta shapes on serving dishes, top with the asparagus and tomatoes, shave over the parmesan and drizzle with a little olive oil. Garnish with fresh parsley. Serve with lots of fresh crusty bread.