Grilled Ham Steak With Peppered Peach Glaze
Bergy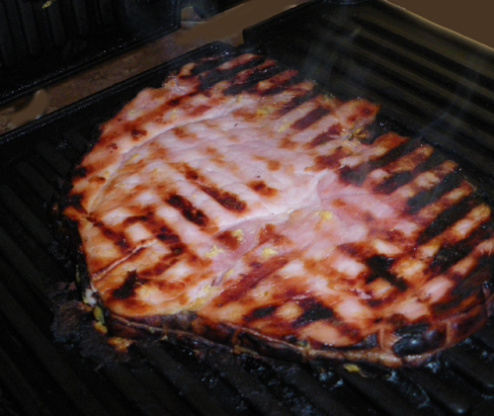 When I made this I couldn't find peach preserves, so I substituted apricot preserves which worked well. It's simple and quick. From Bon Appetit.

Top Review by Bergy
I made the glaze early in the day and marinated the ham in it all day. Then I grilled it on my Griddler. Unfortunately the griddler loved the glaze and hung on to it! Because the ham marinated in the glaze all day the flavor was infused in it - We loved the recipe and the Griddler loved the glaze Hee he. Thanks Lazyme for a winner.
Prepare barbecue (medium-high heat).
Combine preserves, ginger lime juice, mustard and lime peel in heavy small saucepan. Stir over low heat until preserves melt.
Sprinkle both sides of ham with pepper; press lightly so that pepper adheres. Brush ham with some of peach glaze.
Grill ham until heated through, lightly browned and beginning to crisp at edges, brushing occasionally with more glaze, about 3 minutes per side. Cut ham in half. Transfer to plates. Brush with any remaining glaze and serve.