Grilled Ham & Pineapple Burgers
loof751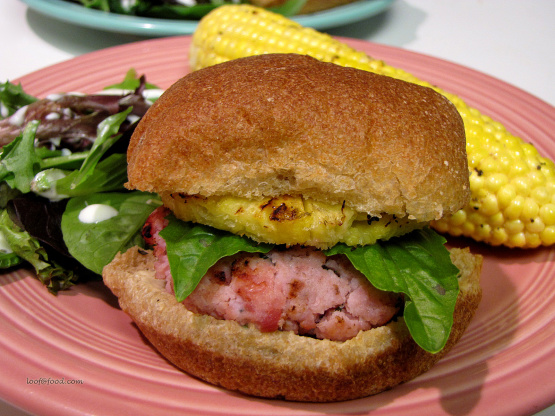 Looking for something that offers a different take on the usual burger? This might just be what you've been looking for. Take a moment to look this one over, it's very nice change of pace.

Very unusual and very tasty burger! I had a bit of trouble getting the ham patties to stick together while grilling so might try to add some kind of binder next time. I was surprised at the addition of the basil to this but WOW it was terrific and for me what made these great. Both in the dressing mix and on top with the pineapple, the basil was the perfect compliment to the ham. Thanks for sharing your recipe!
Snip enough basil to equal 1/3 cup. In large bowl combine half the snipped basil and ground ham. Shape in four 3/4-inch-thick patties.
Grill patties on rack of charcoal or gas grill, covered, directly over medium heat for 14 to 18 minutes, turning once, until patties register 160 degrees F with instant-read thermometer. Add pineapple to grill during last 6 minutes of grilling time for patties, turning once.
Meanwhile, in bowl combine mayonnaise, mustard, honey, and remaining snipped basil. Spread on cut side of roll bottoms. Layer patties, remaining basil leaves, pineapple, and roll tops.