Grilled Ham and Cheese Sandwich With Pineapple
Peter J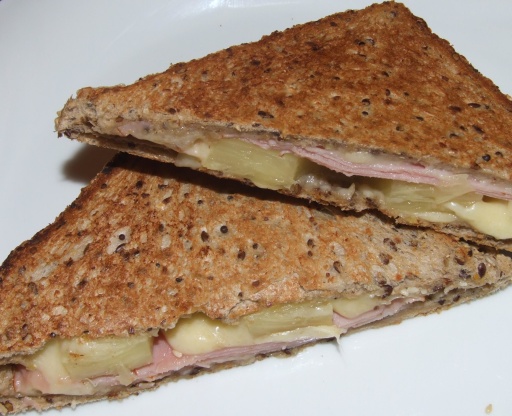 Okay, ham, cheese and pineapple what a wonderful combination! This recipe was printed in Food Everyday, March 2005.

This sandwich is amazing. DS is a huge fan of Canadian bacon pineapple pizza, so I knew he would love this combo. I was right, he devoured two and wanted a third!!! Since he didn't get his third, he has asked if we can have these again soon. Thank you for sharing this out of the box grilled cheese sandwich. I never would have came up with it on my own.
On the sandwich bread, layer cheese, ham, pineapple, basil and a second slice of cheese; top with remaining bread.
Melt the butter in a heavy skillet over medium heat.
When butter is melted, place sandwich in skillet and cook until golden, 2 to 3 minutes.
Flip the sandwich and cook another 2 to 3 minutes or until second side is golden and cheese is melted.
Enjoy!