Grilled Halibut With Tamarind Stir-Fried Vegetables
JustJanS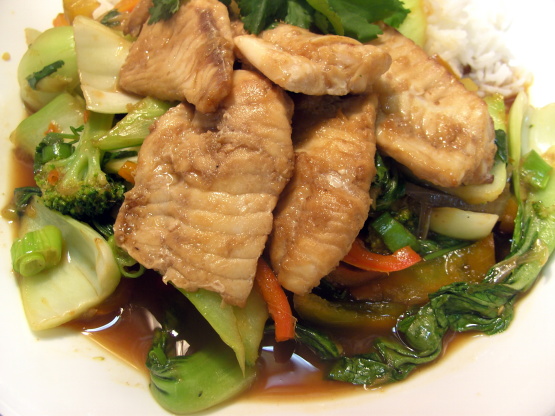 This is a quick and easy fish recipe that is low in carbs and healthy. I have been cooking lower carb meals lately as per hubby's request and this is one I came up with the other night as I had some halibut.

TFC, this was wonderful. I stayed true to your recipe apart from using Red Throated Emperor we caught today and a bit of broccoli as we couldn't buy bean shoots here in Coral Bay. The thing we enjoyed almost the most about this dish was the fact the fish tasted so very different to the vegies and sauce-the salty tartness of it worked really well against the sweetness of the veg and sauce. I marinated my fish for an hour as I was worried it might begin to "cook" (as in a cerviche) if I left it for 2 hours, and an hour was perfect for our fillets. We think this whole dish would work well with green prawns too.
Combine marinade ingredients in a bowl, place fillets in marinade, ensuring they are completely covered,refrigerate 2 hours.
Vegetables:.
Heat 1 tablespoon oil in a wok or pan, add garlic, ginger and chili stir-fry until fragrant, Add capsicum, stir-fry until capsicum is tender.
Add water, stock, sauces, sugar and tamarind, bring to the boil, boil 1 minute, add bok choy, bean sprouts and onion, stir-fry until greens just wilt, remove from heat and stir in coriander.
Fish:.
Remove fish from marinade and discard marinade.
Cook fish on a heated oiled grill plate or grill or BBQ, about 4 Min's a side or until cooked as desired. Cooking times will vary depending on thickness of fillets.
To serve: Spoon vegetables onto a plate, top with fish and garnish with extra coriander if desired.