Grilled Halibut Simply Delicious
Rita~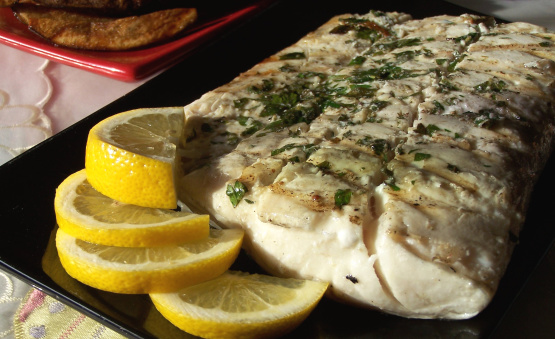 This is a Greek version of grilled halibut. Yes I know halibut is not Greek but it's the flavors and simplicity of cooking that is Greek. Flavored with olive oil, lemon, garlic and Greek oregano. You can use halibut steak which can handle the grill better.

Rita, this is a winner. We had some local Bluefish and decided to use this recipe. Everyone absolutely loved it! Thank you very much.
Combine olive oil, garlic, lemon juice, parsley, oregano, salt and pepper in a zip lock bag. Mix the marinade and add halibut and refrigerate for 1 hour. Preheat grill.
Remove halibut from bag and place on hot very WELL OILED grill.
Grill for 4 to 5 minutes per side.
Place fish and don`t move for 4 minutes or it will fall apart.
Fish is done when it flakes easily with a fork and is opaque all the way through.