Rita1652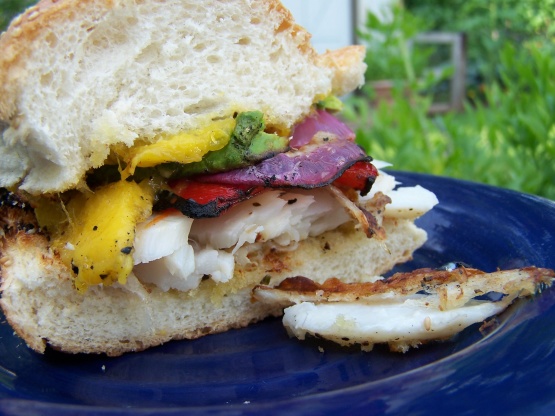 Grilled olive oil coated bread loaded wilt grilled mango, onion, red bell peppers.I enjoyed this without any extra spreads but DH wanted mayo but he didn't want the mango or avocado. Which adds moisture and creaminess. As you see this is very versatile.

This was an excellent sandwich! It was a little messy, with all of the yummy ingredients trying to get out of the roll, but so worth the mess. I used roasted garlic powder in place of fresh garlic, but otherwise made as written. A very filling sandwich without feeling heavy. Thanks for a wonderful meal!
Drizzle all ingredients with olive oil and lime juice.
Sprinkle with garlic, salt, pepper and Italian seasoning to taste.
Over direct grill all ingredients except for bread.
Flip as they char just a couple minutes.
Place bread on grill flipping when one side is toasted.
Place bread on a platter when grilled to your likeness, layer ingredients as they cook to desired doneness on the bread. Be sure to remove the charred skin from the peppers and discard the skin. Remove toothpicks from onions and distribute along the sandwich.
Drizzle olive oil or spread mayonnaise on bread if desired.
Cut into 4 servings and enjoy!