Grilled Halibut Fillets With Tomato and Dill
Derf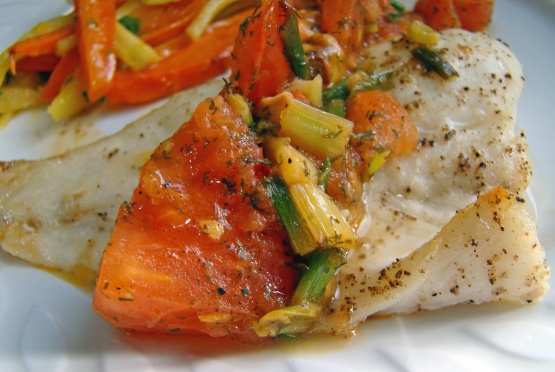 I love to get recipe cards at the store and that's where this easy one comes from. This is actually prepared by broiling. This is a light recipe. The card states that halibut is an excellent source of vitamin B12, and it is a good source of niacin which keeps your body building red blood cells.
Preheat the boiler.
Brush the fish with 1 tablespoons of the oil, season with salt and pepper and place under the broiler for 5 minutes per side or until the fish flakes readily with a fork.
Meanwhile, make the sauce by heating the remaining 1 tablespoons of olive oil in a frying pan.
Add green onions and cook until translucent but not browned.
Add dill and tomato halves.
Cook until tomatoes are just soft and releasing a little juice.
Season with salt and pepper to taste and serve spooned over the fish.