Grilled Green Tomatoes & Onions
Rita~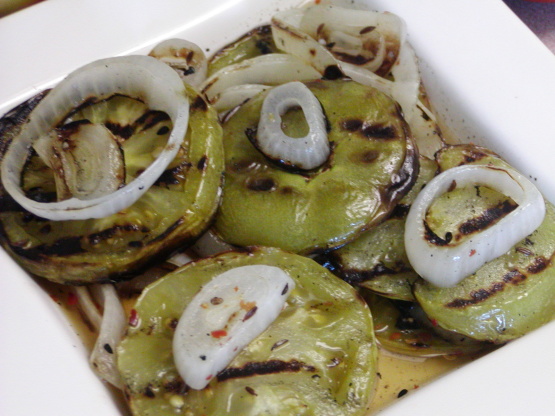 I had all of the ingredients for this recipe except caraway seeds, so I went ahead and made it. I was excited that I liked it, having been on a quest for non-fried green tomatoes lately. I used a red onion. It was sweet and delicious.
Brush tomato and onion slices with oil and grill over medium-low heat turning once or twice, until lightly charred and soft.
Cover bottom of shallow dish with grilled tomato slices in overlapping rows.
Separate grilled onion slices into rings and scatter over tomatoes.
In saucepan heat vinegar with water, sugar, caraway seeds, salt and hot pepper flakes, stirring, just until sugar is dissolved.
Let cool.
Stir again and pour over grilled tomatoes and onions.
Cover and let stand 2 hours at room temperature, or up to 8 hours in refrigerator.