Grilled Greek-Style Chicken Kabobs
IOjaw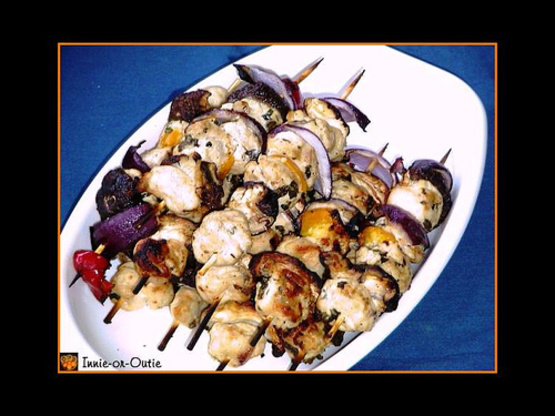 A tasty alternative for yakitori (chicken on a stick)...

Top Review by TerryJ
Wow! Mmm... Super Yummy! I made these for my boys and they devoured them. I followed the recipe exactly except for the mushrooms- left those out. I served them with tzatziki sauce, new potatoes and a salad. There was definately no leftovers! I make lots of recipies from this site but rarely rank them. I wanted everyone to know how delicious this was. Quick, easy and so flavourful- it's a keeper! Thanks!
Combine lemon juice, basil, mint, soy sauce, olive oil, garlic, and pepper in a resealable plastic bag (zip-type works best).
Add chicken and place in fridge to marinate for at least 1 hour.
Prior to cooking, alternate chicken, mushrooms, bell peppers, and onion on skewers – (Note: it is best not to end with bell peppers as they tended to slide off after being cooked).
Cook on medium-high heat grill for approximately 7 – 10 minutes each side.